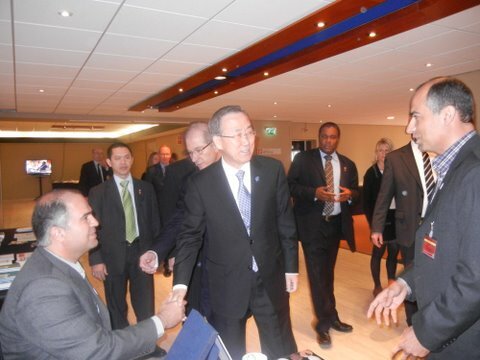 The UN Secretary General, Ban Ki-moon visited the art exhibition set up by TPM on the side line of the 3rd review conference of the Chemical Weapons Convention in the Hague and had a chat with TPM members including survivors of chemical warfare.
Ban Ki-moon who was in the Hague to attend the opening ceremony of the CWC review conference, in his opening speech mentioned his meeting with the gas attacks survivors and that it makes our responsibility heavier to try for abolition of WMD including chemical weapons.
The third review conference of the Chemcial Weapons Cinvention was started on 08 April in the Hague with diplomatic delegationd from 188 member states, over 70 NGOs and international organizations. A delegation from the Tehran Peace Museum and the Society for Chemical Weapons Victims Support - SCWVS - have participated in the conference as amembers of CWC NGO coalition.