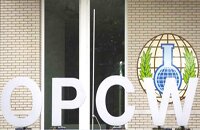 A delegation of the Society for Chemical Weapons Victims Support (SCWVS) and representatives from the Tehran Peace Museum will attend the annual Organization for the Prohibition of Chemical Weapons (OPCW) conference of the State Parties in the Hague, Netherlands from 2-6 December, 2013.
The OPCW conference, which won the Nobel Peace Prize in 2013, is an important forum, particularly in light of the recent chemical attacks in Syria, which recently joined the Chemical Weapons Convention (CWC).
This conference will host high ranking representatives from 190 State Parties. In addition, representatives of more than 50 NGOs will also attend. The delegation from the SCWVS and the Tehran Peace Museum will consist of two chemical warfare victims, two physicians currently researching the impacts of chemical warfare and a political science lecturer. The delegates from Iran will all deliver speeches during the open debate session.
As well as attending relevant seminars, the SCWVS and Tehran Peace Museum delegation will display a photo exhibition on the long term impacts/effects of chemical weapons on victims.
Iran is one of the active members of the Convention on the Prohibition of the Development, Production, Stockpiling and Use of Chemical Weapons and on their Destruction (Chemical Weapons Convention). This treaty was adopted in 1993 and enforced in 1997. It currently has 190 member states. The 6 states non parties to the convention include Israel, Egypt, South Sudan, Angola, North Korea and Myanmar. The SCWVS and victims of chemical weapons giving their personal accounts of these inhuman weapons, have been active and regular participants in this annual conference.