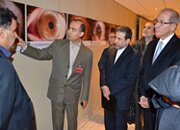 At the recent OPCW (Organization for the Prohibition of Chemical Weapons) annual conference held in The Hague from 2 to 6 December, 2013, the Tehran Peace Museum and the Society for Chemical Weapons Victims Support (SCWVS) displayed a photo exhibition of the long term effects of mustard gas on the eyes. This exhibition was the first of its kind in the world and was widely seen by the participants of the conference.
Among the visitors at the opening of the exhibition on the first day of the conference, were Ahmet Üzümcü, the OPCW Director General, and Abbas Araghchi, the Deputy of the Minister of Foreign Affairs. The exhibition, which ran until Friday 6 December, 2013, was visited by a large number of ambassadors, high ranking diplomatic delegations from many countries, as well as officers from international organizations.
The aim of holding such an exhibition was advocacy on the impact of chemical weapons and the long term effects on the victims' health. Following an initiative of SCWVS, unique photographs of these particular long term effects were put on display. The photographs chart the gradual damage, after a period of 20 to 30 years, to the eye tissue as a result of being exposed to the dangerous chemicals contained in mustard gas.
Iran has more than 70 thousand victims of mustard gas suffering from such long term impacts as opacity of the cornea, destruction of the eye tissue and the gradual loss of sight.
Representatives of Iranian chemical weapons victims from Sardasht were also amongst the participants at the conference. The conference delegates and visitors to the exhibition had a unique opportunity to listen to the victims' first-hand testimonies and to hear for themselves about the difficulties of daily life for chemical weapons victims. The representatives from Sardasht shared their message of peace and their hope for a world without weapons of mass destruction.