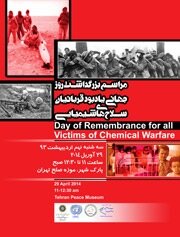 A memorial ceremony on the "Day of Remembrance for all Victims of Chemical Warfare" was held at Tehran Peace Museum on 29 April 2014.
In the event which was organized by the Peace Museum, the Society for victims of Chemical weapons –SCWVS- and the UN information Center –UNIC- , many people including representatives of International organizations, Ambassadors and diplomats, survivors of chemical warfare and their families and several activists and NGO members attended.
To see photos of the event click here.